(Please see below for English translation)
Die dänische Malerin und Galeristin Else Pia Martinsen Erz haben wir 2009 auf einer Ausstellung in Florenz kennengelernt, seitdem sind wir befreundet und verfolgen gegenseitig unsere Arbeiten. Nun ergab sich endlich die Gelegenheit für ein gemeinsames Projekt: Sie hat uns eingeladen, Teil ihrer Herbstausstellung Vadehavet / Wattenmeer zu werden.
Else Pia zeigt neue Bilder ihrer intensiven Auseinandersetzung mit dem Wattenmeer, wir stellen Bilder aus Andreas' Projekt wunderland über Heimat als gefühlten Ort aus – und sind gespannt, wie sich die Arbeiten ergänzen werden.
Eröffnung am 26. September, 14 Uhr
Galerie Erz
Ribevej 13 (A11 – Richtung Romo)
6780 Skaerbaek
Dänemark
Öffnungszeiten: Donnerstag – Sonntag, 10 – 17 Uhr
Die Ausstellung läuft bis zum 18. Oktober 2015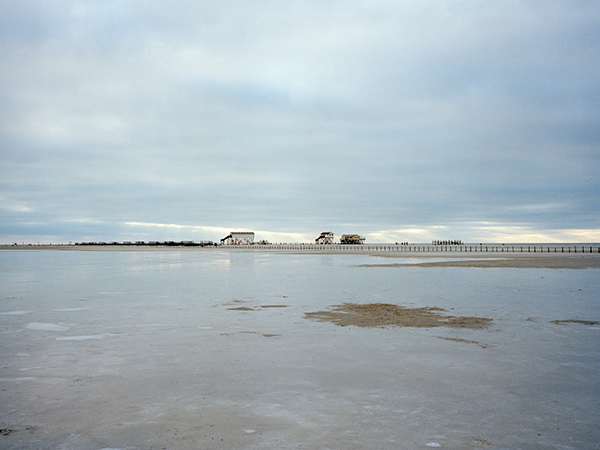 St. Peter Ording, ©Andreas Oetker-Kast
We met Danish painter and gallery owner Else Pia Martinsen Erz in 2009 in an exhibition in Florence, Italy, and we've been friends since following each others work. Finally this year an opportunity for a joint project came up: Else Pia invited us to participate in her fall exhibition Vadehavet / Wadden Sea.
She will show new works from her examination of life in the Wadden Sea and we will exhibit images from Andreas' wunderland project about "Heimat", home, as an emotional place – we're excited to see how the works will complement each other.
Opening September 26, 2015, 2pm
Galerie Erz
Ribevej 13
6780 Skaerbaek
Denmark
Visiting hours: Thursday – Sunday, 10am-5pm
The exhibition will run until October 18, 2015.