The eternal city invites you to look at and think about what remains of 20th century work – at The 2012 FOTOGRAFIA – Festival Internazionale di Roma. Among the exhibitions there will a special photobook feature, curated by Douglas Stockdale, photographer and author of the photobook blog. Work is the theme – and Douglas selected my book manpower, about workers and their working environments in small to medium sized companies, to be one of the 35 books presented, among others alongside Rob Hornstra's Sochi Singers, Pieter Hugo's Permanent Error and Christian Patterson's Redheaded Peckerwood.
As visitors of the photobook exhibition you will be able to go through all the books, but you will also experience work via prints of one double spread per book that Douglas asked each of the selected photographers to submit. The festival will start tomorrow at the MACRO – Museo d'Arte Contemporanea Roma and will be open until October 28th.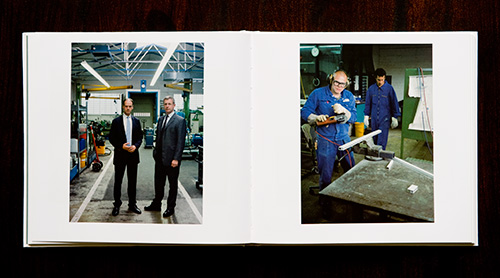 manpower spread chosen for the exhibition in Rome.